the basics
new? start here
egg designs
supplies you'll need
the basic steps

help & more info
f.a.q.
hints/tricks
symbol & color meanings
offline resources

where do I...?
find egg designs
buy supplies
take workshops
list my workshop

fun extras
ukrainian recipes
pysanky coloring pages
original dye recipes
legends & traditions
links

site stuff
contact
sitemap/search

of further interest
ann's rcm coins
peasant magic show
pysanky gift ideas
ann's gift shop


updated NOV 24 2017


Pysanka Coins for the Royal Canadian Mint (RCM)



I was chosen to design three coins for the Royal Canadian Mint - a tremendous honour! My original announcements are shown below, along with links to the Mint's lovely write-ups about the coins.



2016 February


I'm so very proud to announce that last year, I was chosen to design a coin for the Royal Canadian Mint celebrating the 125th anniversary of Ukrainian Settlement in Canada in 2016. And now we can all take a look at it! It was the first egg-shaped coin created by the Mint, so there were lots of technical challenges for them, and I think they did a fantastic job! The coin is extremely true to my original design, and I'm just tickled to see the finished product! It's been a tough secret to keep, let me tell you - I was just so proud to be asked to honour my heritage in this way. I created designs (of which this was chosen) that had symbols of love, growth, good fortune and hope – all things that Canada represented to the Ukrainians who came here to settle, and what Canada represents to all Canadians today. I'm so proud for this opportunity, thank you to the Canadian Mint, and especially their Josh Bednar who got the ball rolling and whose consistent enthusiasm for this project made the whole thing a pleasure. And of course to Dave, my supporter on the home front who said I could do it – you were right! It happened!

Visit the Mint's page to read more about the design, and reviews of the coin.



2017 February


After the success of the first coin in 2016, the Royal Canadian Mint decided to create a second coin using another of my designs! This one went through many redesigns due to technical challenges among other things, but once again I think they did a lovely job and a great translation of my original design to the coin medium. In this time when many places are closing their doors to immigration, I'm pleased and proud that Canada continues to be a beacon to those from other parts of the world who want a better life - as it was for my hardworking grandparents 100 years ago. This coin, like the previous design, contains symbols of health, growth and good fortune - all of which I have thanks to the decision they both made to leave their home and start over in a new place. I still can't imagine the courage it took. Thanks again to all the folks at the Mint for all of their hard work on this project, I think this one was a tougher job than the first one! But it turned out lovely in the end. Thanks of course to my parents Peter & Stella who always made sure I knew where I came from, and helped me celebrate it. And thanks again to Dave, who put up with all the "fun" of having someone working on a design in the same room for hours on end...

Visit the Mint's page to read more about the design, and reviews of the coin.



2018 February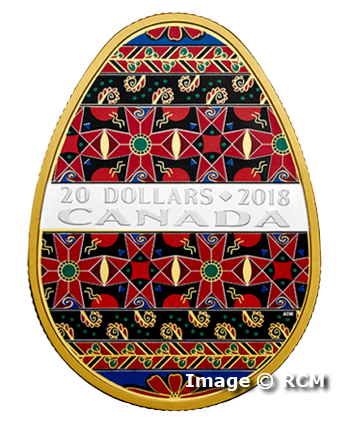 Just in time for the half-way mark to Spring, my newest Pysanka Coin has arrived, officially on the Mint site! I called it Spring, but the official title is Golden Spring (it has gold plating that shines through...see what they did there?) Full of fertility & spring symbols in coxcombs, budding branches, and a symbolic "call to spring" which is meant to visually mimic the sounds of insects as they come alive in the Springtime.

More technical challenges in this one, but the video looks good, so I look forward to seeing it in person in a while! Thanks for everyone's hard work to bring the design to life! And again thanks to Dave and my parents for their constant support (the extra blue is for you, Mom!). :)

Visit the Mint's page to read more about it, and see reviews of the coin.